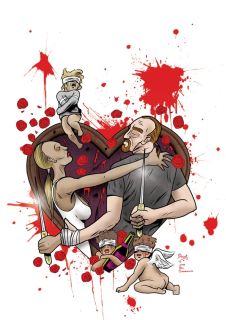 Vanguard Presents: Speed Date DIGITAL DOWNLOAD
Vanguard's resident serial killer and enemy of love Buck Tucker started life in a pair of short horror tales that appeared in the online horror anthology Hallowscream. This edition collects together both blood-soaked and violent parts of that story into […]
---
---
VOTES
Vanguard Presents: Speed Date DIGITAL DOWNLOAD
Vanguard's resident serial killer and enemy of love Buck Tucker started life in a pair of short horror tales that appeared in the online horror anthology Hallowscream. This edition collects together both blood-soaked and violent parts of that story into one groovy full colour comic.
Speed Date features art by Liam "Ghostpockets" Byrne while Speed Date 2: Cruz Control sees Bhuna take over the artistic chores – Bhuna will go on to be the regular series artist on the Tucker strip in Vanguard from issue 2 onwards.
Expect blood – and lots of it – as one man's deranged, homicidal search for the 'love of his life' plays out in the most awkward Speed Date ever.

Speed Date, Art by Ghostpockets

Speed Date 2: Cruz Control, Art by Bhuna