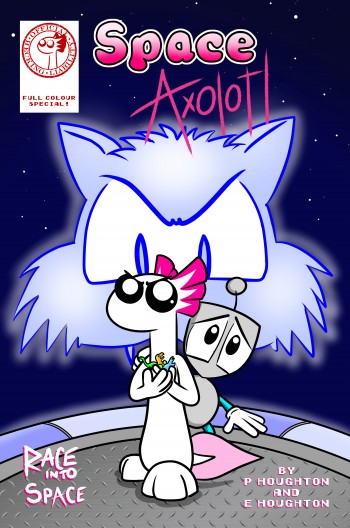 Space Axolotl: Race Into Space
Grab yourself a brand spanking new copy of Axolotl's FIRST EVER adventure! (Yes, we know this is the second one printed – he printed Book 1 second and Book 2 first. Because it's Axolotl and of course he did. Look […]
---
---
Grab yourself a brand spanking new copy of Axolotl's FIRST EVER adventure! (Yes, we know this is the second one printed – he printed Book 1 second and Book 2 first. Because it's Axolotl and of course he did. Look – no-one complained when George Lucas did this with the Star Wars franchise!)
Now, where was I? Ah – that's right! *ahem* Don't miss this opportunity to own a piece of comics history with Axolotl's Race Into Space! Long term fans of his online antics may remember that Axolotl received an 'Honourable Mention' for this entry in the inestimable Lakes International Comic Art Festival's 'Race Into Space' competition all the way back in 2020! The comic, now available in print for the second time (after a sell-out first print run) even has a bonus page explaining a bit of background on the story!
So what's it about, I hear you cry! Well, our hero sets off on a quest to find the legendary Ark of the Infinity Cat and return it to its rightful owner. But Axolotl is involved, so things go to heck in a handcart pretty swiftly. There's also an army of space baddies and a planet-nomming grumptopus, too. Which is nice.
So what are you waiting for? Grab yourself a copy of this FULL COLOUR madcap all-ages adventure today!
What's that? Why's this the same price as the 20 page black-and-white comic, when this one is only 12 pages? Because it costs more to print in full colour of course, you incorrigible chancers, you! Honestly, talk about a tough crowd…