PARAGON #19 – Stephen Prestwood special edition
It feels like the end of an era. Stephen Prestwood has been an ever present in PARAGON since #4 when he took over as artist from me on the Battle Ganesh tale. Issue 4 was the first to start looking […]
---
---
VOTES
PARAGON #19 – Stephen Prestwood special edition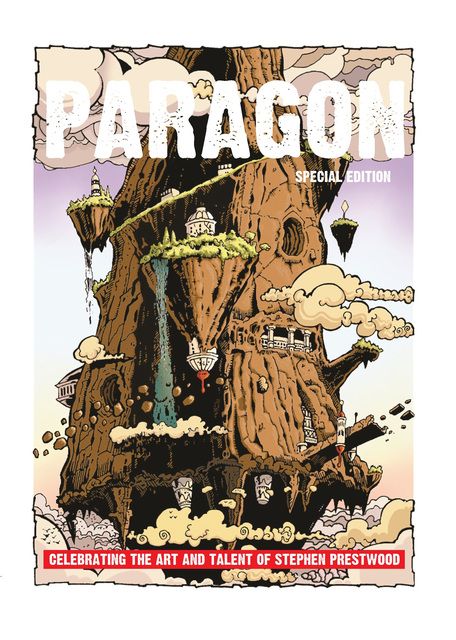 It feels like the end of an era.
Stephen Prestwood has been an ever present in PARAGON since #4 when he took over as artist from me on the Battle Ganesh tale. Issue 4 was the first to start looking as good as I thought it could and it's no coincidence that that was Stephen's first contribution. (The cover to this issue is taken from his Ganesh work and just blew me away when I first saw it)
Stephen was a mainstay of the small press scene for many, many years. I suggest you read the tribute by Owen Watts on John Freeman's Down the Tubes website to see how long and how involved he had been
http://downthetubes.net/?p=31490
It's an indication of the esteem the man was held in that the editors of other comics have been so willing to let me reprint their work in this issue, so my thanks go to Jay Eales and Mike Sivier for the Hard Boiled Hitler strip (imagining Hitler as a superhero!), to John Short for his unsolicited X Men strip and to Matt McLaughlin for the episode of El Bigote – the undead bandit who fires quills from his 'tache! This was (so far as I know) the last strip Stephen worked on.
Reprints from the pages of PARAGON include his sequel to Icarus Dangerous (the boy whose wings melted and fell to Earth – but was rescued by aliens!), Spencer Nero (the Civil Centurian – a British agent who finds inhuman strength when he dons the Janus mask) and, of course, Bulldog (the anthropomorphic protector of the skies above Blighty).
Bulldog was the first strip I saw drawn by Mr P back when the character had his own comic, BAM! So when Jason suggested bringing the old dog back within the pages of PARAGON, Stephen was my first choice of artist. Happily, he agreed.
He never got to illustrate an episode of the time travelling demon hunter, Jikan, but we do have pin ups of his favourite characters in these pages so we can see what he would have done with the Japanese warrior. If only.
My thanks to all those letterers (never forget the letterers!), writers and editors who have made this collection possible. I hope it does the talents of the artist justice.
64 pages for £2.75 + P&P