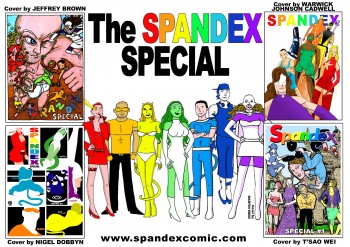 THE SPANDEX SPECIAL #1
This is it – the final issue of the series! There's a brand new team – but how will they get on? And where are the old gang? This is a giant-sized series finale with FIVE variant covers (all contained […]
---
---
VOTES
THE SPANDEX SPECIAL #1
This is it – the final issue of the series!
There's a brand new team – but how will they get on? And where are the old gang?
This is a giant-sized series finale with FIVE variant covers (all contained in the issue), so you have a choice between:
Jeffrey Brown, Warwick Johnson Cadwell, Nigel Dobbyn, T'Sao Wei and me (Martin Eden). Please let me know if you have a cover preference when you order.
52 pages, A5, full colour!